This is a very convenient and easy to find airport just inside Italy from the French border on the coast. It is located a couple of miles inland and up a valley. There is one runway at a generous 1448m and aligned 09/27. Any approach to 09 will mean a downwind leg either into the valley next door and across the ridge onto final or almost along the runway heading and turnaround in a 180 turn in the tight valley onto final. Note that they are quite fond of their VRP reporting points, so you should know where these are and be ready with them. The guy in the tower was fine with English on the radio although I did have to repeat my callsign five times – G-GDRV (I think it was the 'double G' that threw him).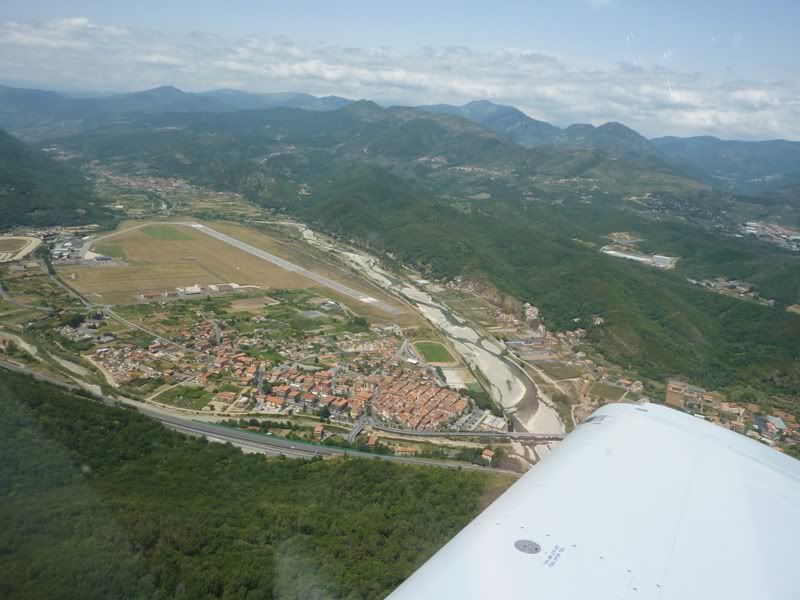 Albenga airport
If landing on 09 try to land short as the only exit from the runway is at this end. There is quite a mix of interesting aircraft operating from the airfield. The AVGAS was easy and promptly attended to by a pompier. The terminal is fine, with a small snack bar and facilities.
You pay at reception in the terminal which is a true artform in itself and well worth the entertainment value it provided. The lady asks you a huge number of detailed questions and spends about 10 minutes bashing stuff into the computer, then generates a bill as long as your arm which includes small changes for pretty much everything, I swear the only thing that wasn't itemised was the number of sheets of toilet paper I had used! The cost wasn't outrageous (but equally not cheap), I just found it all a bit weird that's all.
A very convenient and easy airfield, good for a break and refuelling. Don't know what the town is like as we didn't stay.