Old Buckenham is an ex-WW2 US AAC bomber base that flew mainly Liberators in WW2. It was also the base where the actor James Stewart was the Exec Officer for the Group (he was one of the few 'real deal' actors in the US armed services).
It is located some 10nm SW of Norwich. I did not find it particularly easy to spot (partly because it was lurking under the shadow of a cloud on an otherwise sunny day). What does give it away are some very large (I would guess turkey) sheds obviously built on part of what used to be a very long hard runway 25. The hard runway is now only 800m, of which the 150m on 25 is very rough – don't even think about 'accidentally' landing there!
Turning final for 25 over the sheds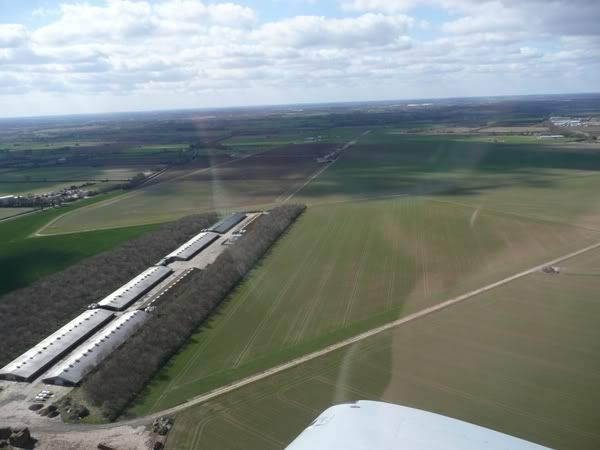 Final for 25
There are no overhead joins as there is often parachuting and they land just behind the clubhouse to the south. Call at about 10nm to find out about the parachuting and whether they are dropping at that moment or not.
This is a very well kept airfield and we got a very friendly and helpful reception, with detailed taxi advice delivered in a very relaxed and friendly way (i.e. NOT a case of a radio service overstepping the mark).
The café was basic but very good and fast, friendly service.
The airfield reminds me a bit of Compton Abbas (yes, I know it is not on a ridge at 1000' odd), with picnic tables on manicured grass outside the front of the clubhouse watching the planes come and go, giving marks out of 10 for each landing (like you do). It had a very relaxed feel to the place and I could quite happily have stayed all day.
Last edited by
Steve H
on Thu Jul 16, 2009 5:49 pm, edited 1 time in total.