Little Rissington is located on top of a small ridge in the Cotswolds at an altitude of some 750' and is due east of Gloucestershire Airport and just to the north of the Brize zone. It is very easy to find from all directions. It was used in WW2 and after as one of the main training airfields by the RAF Central Flying School.
It is owned by the MOD and is used often by 637 VGS (Volunteer Glider Squadron). A civilian aircraft maintenance and restoration outfit called Devonair (specialise in restoring the post-war Devon aircraft of Brabazon committee fame) operate there and it is essential that you obtain a briefing and prior permission from Devonair beforehand. They publish an airfield chart and the flying order book on the web, which you should read beforehand. Devonair will then either notify the VGS for you or may ask you to call them directly to advise them of your visit.
Website with chart, PPR number etc. here:
http://www.devonair.net/
You are required to notify Rissington Radio on 124.10 10 miles out from the airfield. It is usually manned at weekends (as there is often glider training). They seem to prefer standard overhead joins. The airfield has three excellent length and very good condition runways, although the runway number markings are very faded and no longer correct (due to magnetic changes).
Little Rissington, note Devonair hangars at the bottom and grass taxiway
There are often Vigilant motor gliders in the circuit doing circuits. Be warned, they are VERY slow, I know, I tried following one and a very slow (for me) 80 kts and was catching him up!
Most of the outside taxiways are marked as 'do not use' as they are very rough and have obstructions. Basically, you must taxi to Devonair, the two blister hangars about 100 yards beyond the end of runway 32 and slightly to the right. So you must taxi along runways to the end of runway 32. Then carefully look for and find the rolled grass taxiway (it is pretty much straight on from the end of 32). It is marked by some traffic cones. There is a narrow patchy tarmac taxiway slightly to the right – DO NOT USE THIS - there are obstructions at the end (trust me, I know!).
Taxi all the way to the Devonair hangars and park outside. There seems to be one chap in particular at Devonair who does everything, is very helpful and friendly and makes and excellent cup of tea.
Do ask to have a look around inside the hangar, loads of interesting types, including vintage three Isaac Fury aircraft. There is little else to see and do, other than to soak up the history of the place and the great aircraft parked up at Devonair.
Landing fee is a voluntary donation of £7 to the RAF Benevolent Fund.
Departure consists of calling Rissington Radio after start up but before taxi to find out which runway the motor gliders are operating from as it may be 32, and that is at the end of the taxiway you have to use. If they are using 32, you can taxi when told then pull up on the tarmac to either the right or left of the runway for power checks and report when ready. Yes, it is 'Radio' but it is sensible to work carefully with the military here.
Note that the whole airfield is somewhat 'convex' as it is built on the top of a ridge. So the runways are a bit 'dome-shaped' such that you cannot see the end and there are few reference points, other than the runway edges that you can fix on to help keep the aircraft straight – taildraggers be warned!
Final for 22 - note 'domed' shape to airfield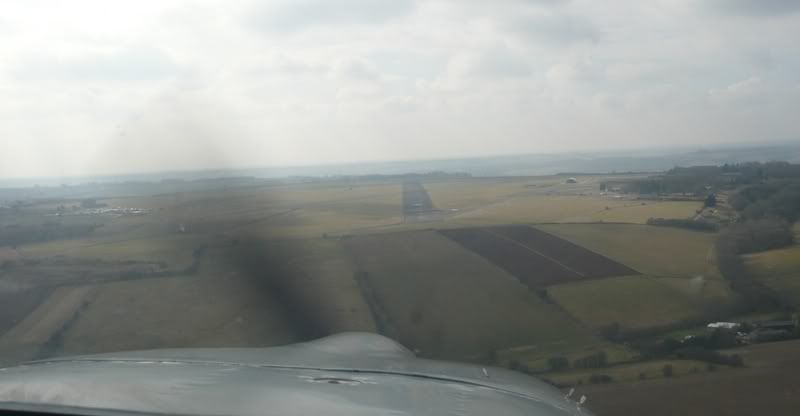 OK, a bit of a performance required to visit, but in reality no more than you would do for PPR airfield you hadn't been to before, and not a lot to do while you are there, other than look at some great aircraft, but good fun anyway.[url][/url]
Last edited by
Steve H
on Thu Jul 16, 2009 5:54 pm, edited 1 time in total.