Day 4
We woke, after a rather pleasant night's sleep at the Super 8 hotel in Freiburg which was really far too good for the 70EUR per person per night that we ended up paying for it. We all met for breakfast and to discuss the plans for the day. As we were supposed to be coming home the day after, our thoughts centred around where we'd locate ourselves for the night. The combination of Simon Keeling's videos on Flyer, Dark Sky on iOS and the BBC showed that there would be a front coming in the next day and sitting over the Netherlands and the Channel... we had a choice to make; press on towards Salzburg, end the day somewhere like Bielefeld and not get home the next day, or abandon all plans and do a long day and get back to England this day before the weather sets in.
Salzburg won

After finishing our breakfasts and packing up our gear we got a taxi back to the airfield. I checked the plane out and took it round for fuel (no BP cards required here!) and Blaz went in to pay. I was picking up the flying duties for the trip over to Salzburg as it's an airfield I've always loved flying in to on x-plane and MSFS. I'd love to give you a detailed write-up of the flight over to Salzburg, but there's not much I could say that you haven't read already... the controllers in Europe were easy to deal with, the scenery absolutely beautiful as we skirted Obersee en-route past Friedrichshafen and it was genuinely some of the easiest flying I've ever done... evidenced that for most of the two and a half hour flight I was flying the plane with the lightest of touches on the controls, just for safety's sake.
Before too long the Alps started coming back in to view off our right wing and we were approaching Salzburg... these were the views that I'd wanted to see! We routed Tachingersee, then Ainring and from there were cleared to land.
Upon landing we were greeted by the 'follow me' van (my first experience of one of those) which, once we'd shut down and parked up, took us to the terminal where I was charged a most reasonable 35EUR for parking, handling, transport etc.
We left the airport and walked to the nearby McDonalds to grab a spot of lunch while we planned our next trip. We decided to do a short, 30 minute hop with me as PIC, to Mühldorf where we'd refuel at a very reasonable price before heading up to Bielefeld for the night.
Whilst scoffing our cheeseburgers, the flight plan was filed and before too long we sauntered back to the airport. After having our passports inspected and belongings put through the x-ray machine (for the first time since leaving Stapleford!) we waited for our van ride back to the plane whilst admiring the scenery.
About 10 minutes of waiting later the realisation that we had to press a button to request the van dawned upon us... so we did, it arrived, and it took us back to the plane, where the now obligatory ramp pic was taken.
I fired up the Warrior, did the power checks and left Salzburg behind, routing via Whiskey and then up to Tachingersee before finally leaving Salzburg's zone. As we were already halfway to Mühldorf by this point we switched frequency to them and gave them a call. And waited whilst they found an English speaker to come and man the radio and talk to us.

Mühldorf turned out to be a lovely little airfield. Big, concrete runway with massively displaced threshold (which we later realised was because of a cycle path that ran through the end of it... evidenced by a lady casually riding her bike across). 11EUR landing fee, quite reasonable fuel costs and what looked like a really nice on-site restaurant (which unfortunately was closed at the time we got there, making the McD's a rather shrewd choice).
After having a good old chat with the chap who spoke to us in the tower, and having refuelled the plane, it was time to leave Mühldorf behind and get to our final stop of the day at Bielefeld.
But not without the ramp pic

Blaz took over for this two hour leg, and he taxied us down the thinnest taxiway I've ever seen...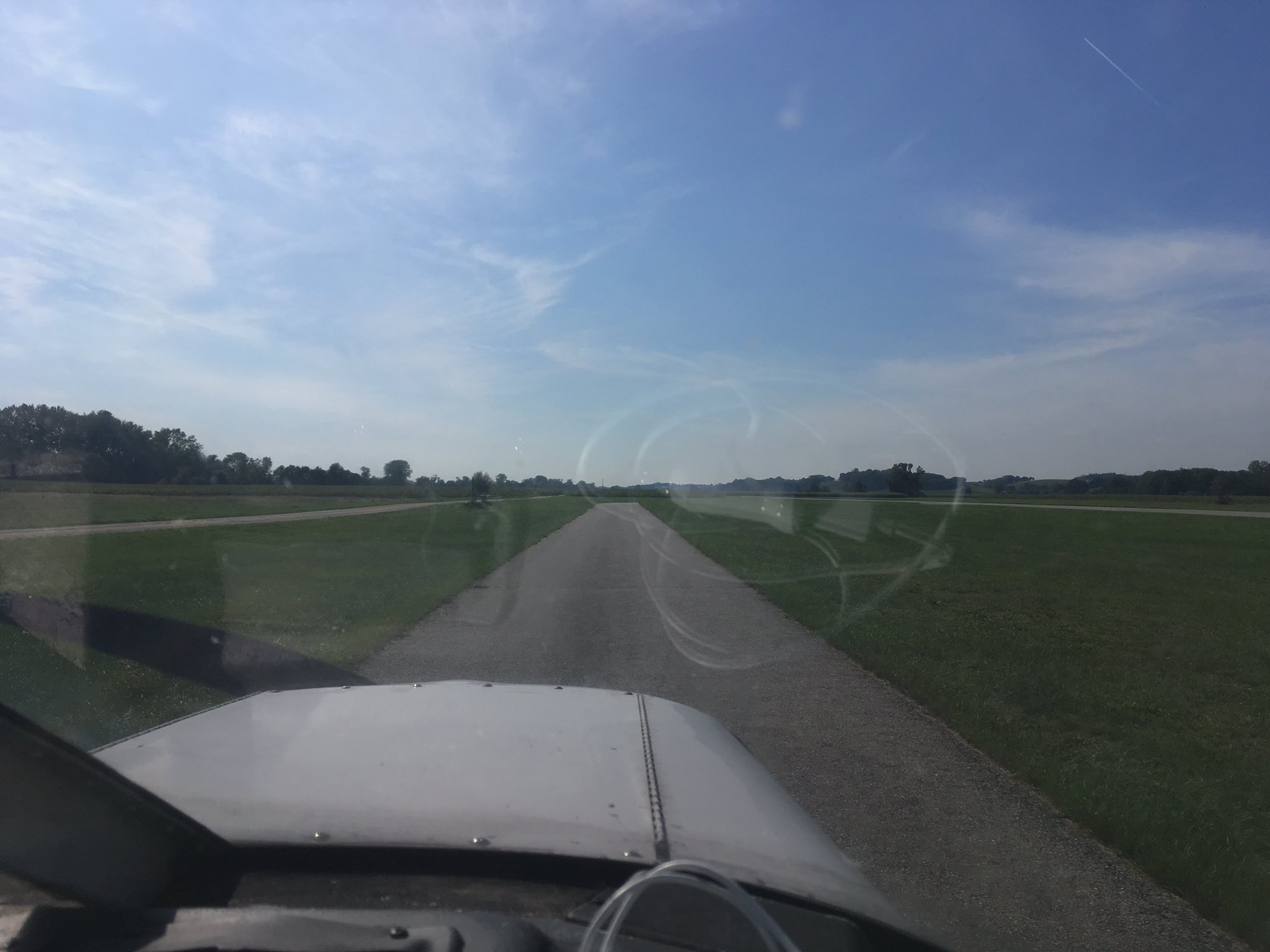 ... before we took off and set course for Bielefeld.
Again, the flying was easy, and I didn't have much to do other than sit in the back of the plane and take pictures of the clouds as we flew on by
Before too long we were on final for Bielefeld, where we landed, parked up and then went in to the tower to sign out for the free courtesy car... an ancient Merc! Having lived here for years, James knew the place like the back of his hand... which was interesting seeing as the Germans believe the town doesn't actually exist! (
https://en.wikipedia.org/wiki/Bielefeld_Conspiracy
- and now you all know someone who's been there, you're also complicit in the conspiracy!)
James used all his local knowledge to check us in at the Hotel Wali for 45EUR for the night and we headed out to a nearby Chinese buffet to do wonders for the PA28's weight and balance...
Whilst numerous plates of buffet were consumed, we checked out SkyDemon and the TAFs to see how the weather looked for the next day. One thing was for sure, getting home on schedule wasn't an option!
But that's a story for next time

Freiburg to Salzburg
(Salzburg to Mühldorf video coming soon)