By
FLYER Jonny
- Thu Jul 08, 2021 10:30 am

FLYER Team Member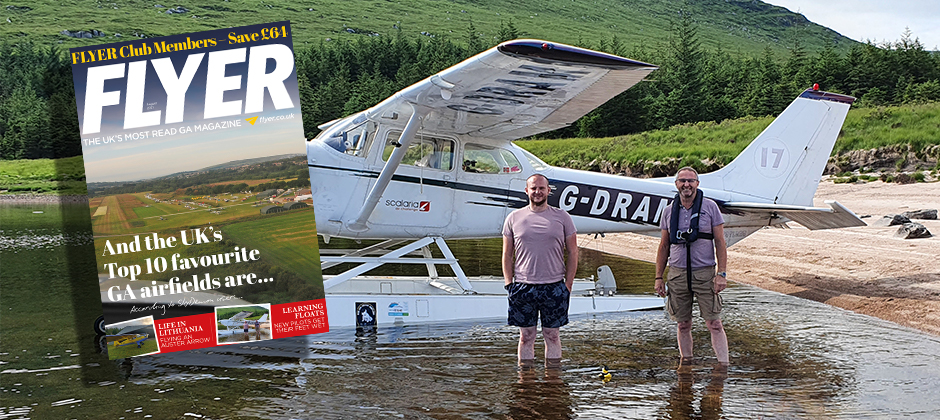 In the August 2021 issue of FLYER

We all have our favourite airfield, but where do you think are the most popular GA destination in the UK? We look at UK GA pilots' top 10, with, thanks to flight planning app SkyDemon…
Land or water? Tough choice, eh? Not for Nigel Smith, who with his son Aaron, and with their own floatplane nearly ready to fly, decided to get their Seaplane ratings…
Aircraft can have appalling blindspots, with designers seemingly having considered the need for lookout as a bit of an afterthought. In Accident Analysis Steve Ayres asks, what can we do about it?
Having signed up because it seemed like a nice freebie, Shuttleworth Chief Pilot Paul Stone was completely captivated with flying as soon as he climbed into an aircraft. Find out more in this month's First Solo.
We take GA flying in the UK for granted, but what's it like when you move to somewhere like Lithuania? Relocated there for work, Artyom Liss first had to find an aeroplane to fly. Enter the Auster Arrow…
In Flying Adventure, Thomas Leaver recounts some highs and lows moving his Aztec Nomad (it's on floats!), heading from Alaska to Florida.
In Top Gear, Jonny Salmon finds out what the 360° GoPro MAX camera has to offer, while Ian Seager is on cleaning duty (again) putting Clean Wing through its paces.
PLUS…
• FLYER Club members save a whopping £64 with SIX FREE landings at Andrewsfield, Bagby, Elvington, Sherburn, Truro and Yatesbury.
• Great columns from Dave Hirschman, Mark Hales and Ian Seager
• Plus all the latest news
Read here!
Jonny