I'm late in producing this trip report which was last November 2017, when poor flying weather in the USA really is like UK flying! Fog, low cloud, more fog and poor viz.
A planned VFR boys autumnal flying trip to the Florida Keys requires there being no Hurricanes down there, so November seemed a good month. We knew that there was a risk of some form of weather delays at that late time of year due to reduced VFR conditions from our northern departure points all the way southbound. And so it turned out to be...
Planned route:
Four of us were flying from separate departure airports in the mid-west in the four Taylorcraft that we each own.
I and Mike from near Chicago, Jim from north-west Iowa and Mark from Kansas City Missouri. Right from the start we were delayed 24 hours, which made Jim (trip organiser extraordinaire) work overtime to notify all the planned stopovers and places-of-interest of the delay.
There was a BIG front across the intended route for all of us:
But after that initial day's delay, we all four met up in Batesville Arkansas..24 hours late.
On the way south, Mike and I had to fly over some heavily-forested areas. We diverted our magenta line to remain within reasonable gliding range of a main road that followed our general direction. I'm as cautious as can be about flying over trees for hours at a time, but sometimes you have to do it!
Batesville were fantastic, giving us the keys for the Office to camp in and the keys to their courtesy car:
Next day...more bad weather!
We were delayed half a day, and took the opportunity to use the courtesy car again to visit the local museum and the locks on the White River which passes through Batesville. These have been converted to small-scale electric hydro-generating plants.
The local history was fascinating, especially the use of the river "back in the day" as the lifeblood of the community:
Anyway, after lunch the weather cleared a lot, so off we went south.
We fly over
vast
catfish farms:
And we cross the Mississippi many times on our way towards Louisiana.
The Mississippi, as we all know, is retained by vast levees to keep the water in the river channel when it floods. These are constantly maintained by the Civil Corps (perhaps it was them that built in the first place...) but anyway, each levee is now topped by a narrow hard runway! Just too tempting!
Four of us refuel in Vicksburg, as the sun is setting rather quickly! We still have a half-hour flight to our re-planned overnight stop:
....but we make it in time to the crop-spraying centre that is Magee. What a dump. Note to self: never go there again!
The next day, we met the panhandle of Florida, with a planned refuelling stop at Destin.
Boy, was this place busy! Our formation of four did not flumoux them, but we did volunteer to orbit on the downwing leg to assist with the jet arrivals.
(Below: Florida panhandle coastline)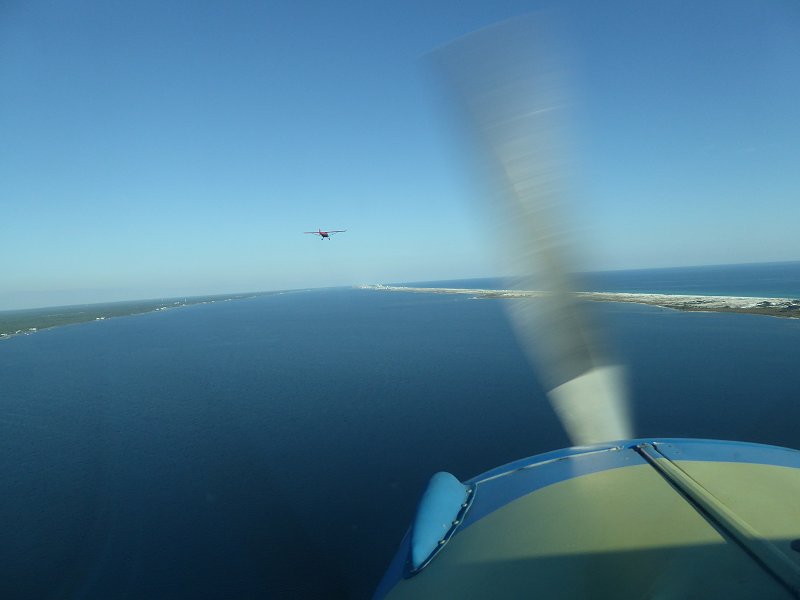 (Below: refuelling at Destin...the only place we paid a handling fee)
Later that evening, we coasted further along the Gulf of Mexico, and I took the opportunity to take some sunset photos of Mark:
We were hosted that night by Jim's cousin Joe, who has a lovely C150 based at a private airpark on the Florida east coast called Costin. I have met Joe before, at Jim's home in Iowa.
(Below: Joe, at Costin, Florida. I had initially thought the waterway was for floatplanes, but it was just a waterway). So no drifting off the runway too much!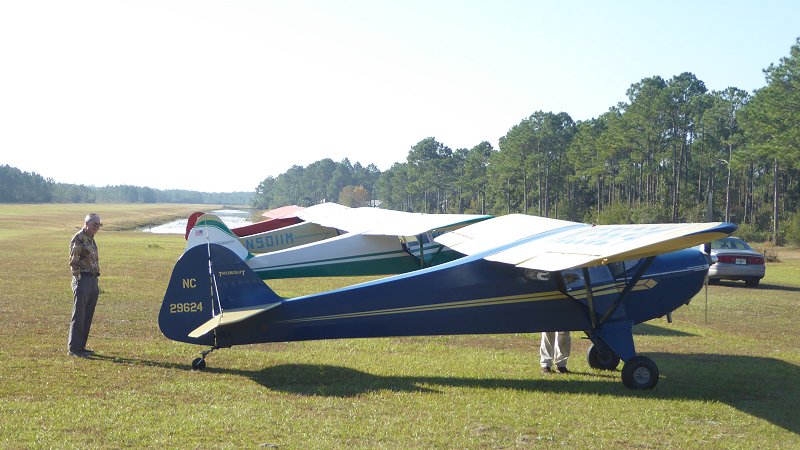 The following day was going to be a bit special; we had planned to meet with an old friend of mine Jon, who following retirement from the airlines, now summers in Florida. His old airline-pilot career brought him to the UK every week, and on many occasions he came and flew my Taylorcraft in the UK. I have also flown his in the US when he lived in New Hampshire. He was the main instigator of my first time flying into Oshkosh, back in 2001.
That Taylorcraft of his now lives in Florida, so the intention was to meet up with him and make a 5-ship, at least for one leg of our journey.
And that's exactly what happened (with yet another weather delay first thing!)
We left Costin in fine weather. Turning eastbound, towards the southern-heading eastern coast of Florida proper, we encountered this coastal fog: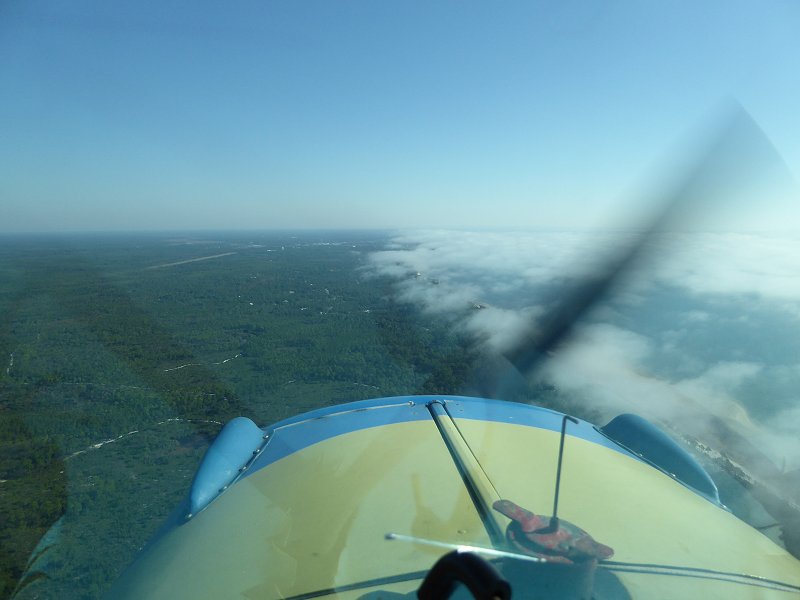 And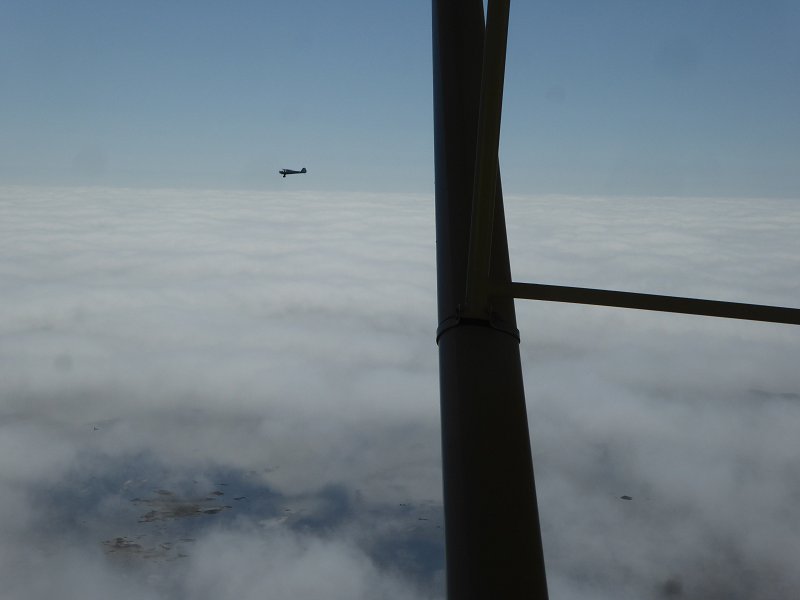 So we diverted into Wakulla County Airport for 20 minutes whilst the warming temperatures dispersed the fog.
I was now warm enough to get rid of the leggings and cabin heat and time to don shorts!
We met Jon at Perry airport, where he was to guide us to his private airpark at Little River
So we become a 5-ship!
Jon spends his summer months at this private airpark. The general idea of airparks is that you buy a plot of land adjacent to a runway, build a hangar (and then the house!) and everyone contributes to the upkeep of the runways, taxiways etc.
For departure the next morning, we took his private taxiway under the trees to reach the runway.
More later, as I get to type up the rest of the trip.