AKA Staverton (used to be called this based on the nearby village). Pretty much equidistant between Cheltenham and Gloucester and very near the M5.
EGBJ and environs
EGBJ from the overhead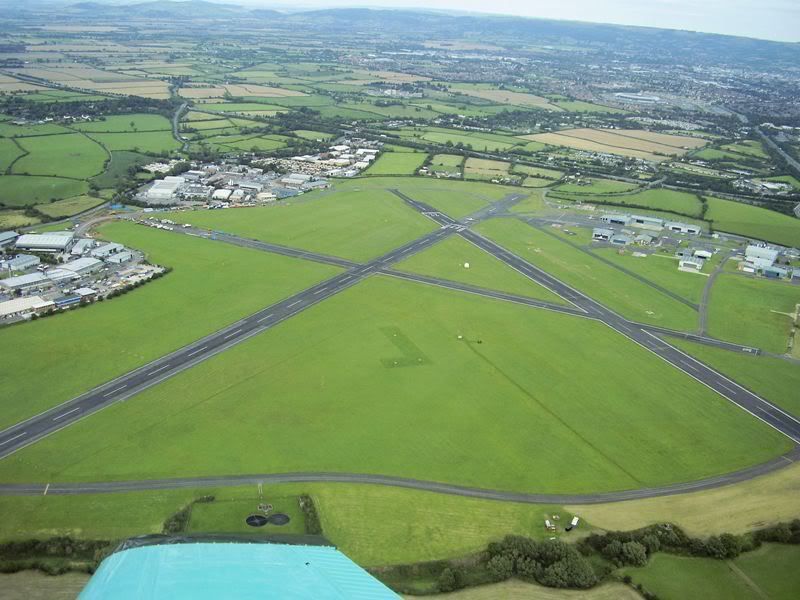 Three runways, all plenty long enough for typical light aircraft. NDB / DME instrument approaches for the main runway 27 / 09 (they will be adding a GPS approach shortly and hoping to add and ILS once planning goes through). Weekly commercial flights to Jersey and Isle of Man. Quite keen on hi-vis vests unfortunately.
Easy to find and spot, but you can come up on it fairly fast if coming 'over the ridge' from the east. Local landmark is a very unusual doughnut shaped building which acts as an ideal turning point from base to final for 27.
Building most of us use as a turning point onto final for 27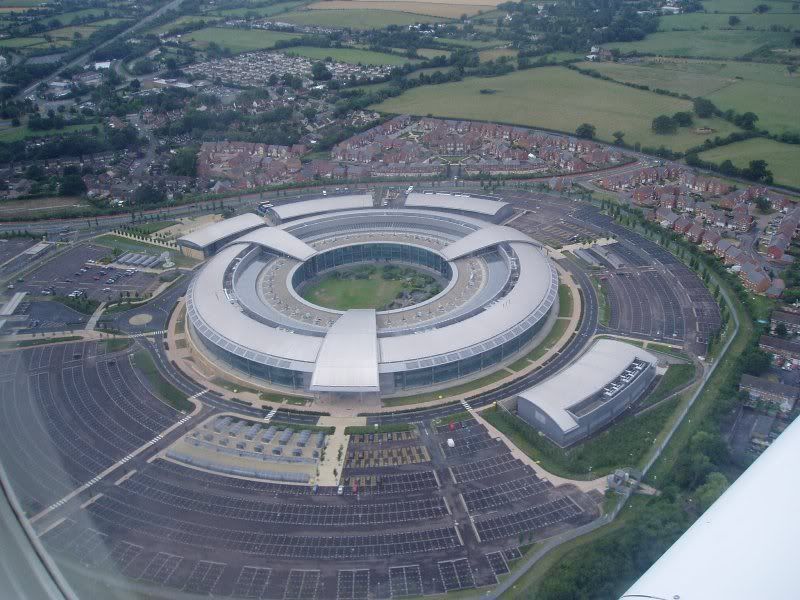 Complex scale of charges, but note significant discounted landing fees for amongst other things:
- Historic aircraft built before 1950
- Ultralights
- Permit aircraft
- If uplifting 50 litres of fuel
First four hours of parking free.
Free WiFi in both the Aviator cafe and in the main terminal building. Also free internet connected PC in the main terminal building for flight planning, weather etc.
Report through arrivals in the terminal building clearly marked with a big yellow and black 'C'. Car parking is plentiful and free.
Aviator pub / cafe now much improved with all the usual fayre, plus some more 'upmarket' panini's and lattes etc. A fair few locals on Sundays and in evenings when doubles as a local pub.
Both Cheltenham and Gloucester are a nearby bus ride or a cab ride away.
Many fixed wing and helicopter flying schools and clubs, as well as a Transair shop outside the terminal on the right and on the first floor.
Note noise abatement procedures on take-off and do NOT make the noise abatement turn on 27 until you have reached the end of the runway or you may infringe the helicopter circuit.
Great and very busy airfield with a lot of Flyer Forumites based there. Ideal for Cheltenham, the racecourse (during Gold Cup week, it is mad with flights and helicopters) and possibly even for RIAT as a base.
Official website
http://www.gloucestershireairport.co.uk/
Last edited by
Steve H
on Mon May 10, 2010 2:26 pm, edited 4 times in total.