There are two major airport in Goteborg (Sweden's second larget city), the main commercial airport at Landvetter and this mixed GA / Ryanair / low-cost carriers 'Goteborg City Airport', aka Goteborg Save.
Goteborg is located on the west coast of Sweden, about halfway up from the southern tip of Sweden. Goteborg Save airport is located about 8nm north west of the city centre, whereas Landvetter is a good 12 nm east-south-east of the city centre.
We approached the airport flying from Denmark, heading north east from the Danish island of Laeso in the Kattegat, this involves about a 36nm sea crossing. We routed in via the 'RAVEN' reporting point some 8 nm west of the airport. We were advised to be at or under 1500' by this reporting point as Goteborg Save seems to control up to 1500' while Landvetter controls above that normally.
From RAVEN, we routed east for a right base join for runway 19. We spotted the airfield easily enough.
There are two runways, both tarmac. The main runway is aligned 01/19 and is 2039m and the other is aligned 04/22 and is 871m. We vacated via holding point Bravo at the mid-point of the main runway and held just after hold while we contacted the ground frequency for parking instructions. It was simple enough, just taxi straight ahead to the prominent 'fuel island' and park on the grass immediately to the south (there were other aircraft already parked up on the grass).
Swedish AIP here:
http://www.lfv.se/sv/FPC/IAIP/
We used our own tie-downs as we couldn't see any around.
You report to the yellow and black 'C' as usual, in the main terminal building. They didn't particularly need to speak to us on arrival and said we should come back via the same entrance on the way back to settle up.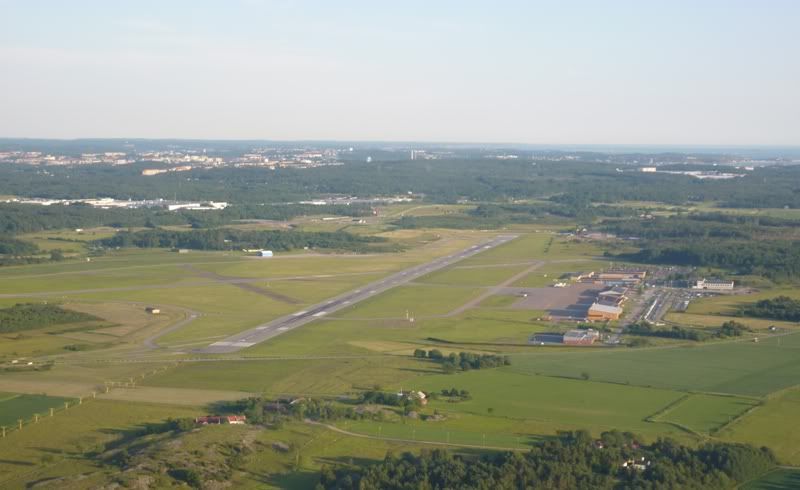 Goteborg Save airport approaching runway 19 from right base
We fuelled on the day of departure and that was easy enough, we just asked at pilot briefing and pulled the plane over to the AVGAS pumps. A very friendly and helpful pompier arrived and duly did the business. Chitty in hand, we went back to briefing and paid up. Pay by cash or credit cards, no bother. There didn't seem to be an internet PC available, nor WiFi, but I asked in the local flying club ('Aeroklubben I Goteborg'), in the building due west of the pumps) and they had an internet PC they were happy for us to use.
For real insider information, contact 'akg1486' aka Peter Andersson by PM as he is a Flyer Forumite who is also the Chairman of that particular very active flying club.
If you have time and fancy some flying sightseeing, try an evening flight and ask for 'city 2000', you can fly around the city centre at 2000', then head off and descend to 1500' for a flight around the many islands to the west and north of the city, then back in to Goteborg Save. We did this and the smooth flight and tranquility of the evening and the lovely evening light made it well worthwhile.
We did have to present our pilots licence and photo ID to get back airside and have our baggage scanned, but it was all pretty good natured and not terribly serious.
Goteborg City courtesy of City 2000' clearance of a beautiful evening at 20:00 local
You are by far best getting the 'Flybussarna' flying bus from the airport to the city centre. You can pay on the bus in cash and it costs about £GBP 6.00. The taxi cost us over £GBP35. You can also get the same bus back, it leaves from the main bus station in Goteborg. The service is irregular as it is timed to conicide with the low-cost carrier flights, but there were plenty of them daily, just don't get confused and get the same bus line to Landvetter. Look out for the distinctive rainbow swoosh on the side of the bus. You can also buy tickets for this bus at the main city centre bus station (Nils Ericsson Terminal) in the office marked 'Vasttrafik', but you must take a ticket as they have a ticket queue system (ask me how I know!).
We flew out to the south heading towards Hoganas. Departure was easy as we were still using runway 19. We were given 'route west of the city at no higher than 1500' - easy enough.
PS: I am reliably informed that the pronounciation of Goteborg in Swedish is 'yote-a-boy', but I think i'll stick with the severly anglicised 'goat-a-berg'