Saturday had dawned a bit grim, but it looked like it could be flyable between the heavy showers forecast, so I arranged to meet up with Rob L on a trip out to Seething via Tibenham.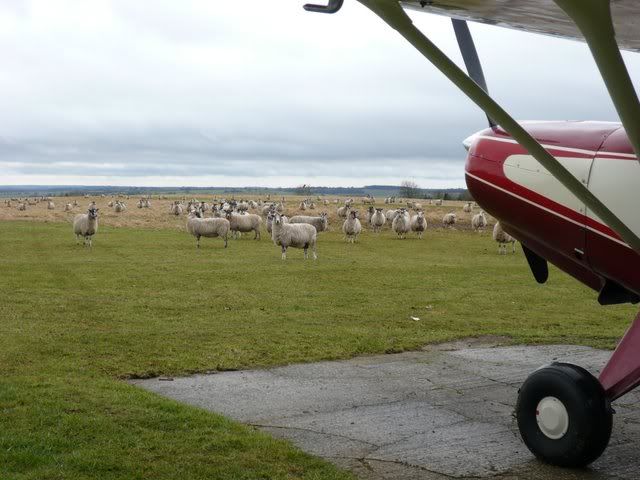 Above: Arriving at our strip I found that it was sheep grazing time again, which always makes departing and landing "interesting".
Above: There was the odd bit of wooley FOD on the takeoff run, which I herded to one side as I taxied down to the end for departure.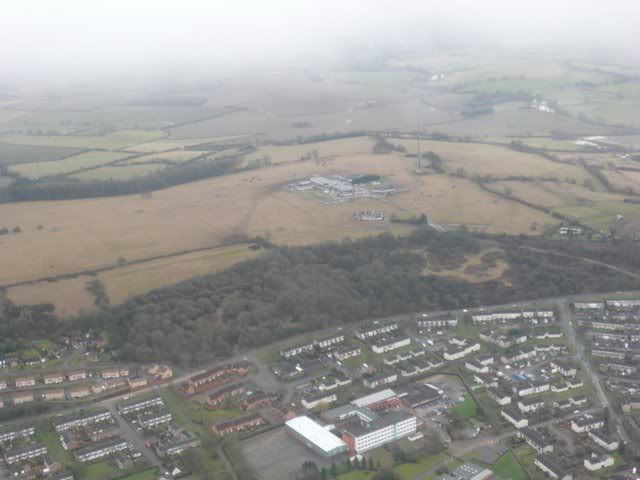 Above: Rob was still socked in at Leicester, so I decided to pop over to Pitsford and give him another call on his weather from there. As I departed I could see Burough Hill with the BBC mast (Ref the 75th birth of radar discussion on the other thread).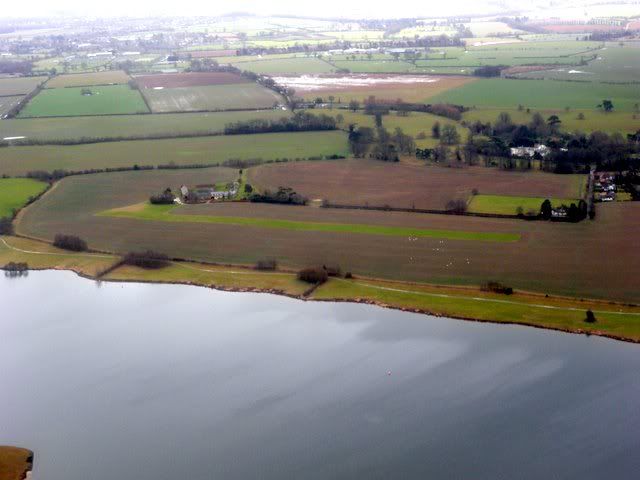 Above: This time of year, the grass strip at Pitsford shows up well between the brown fields.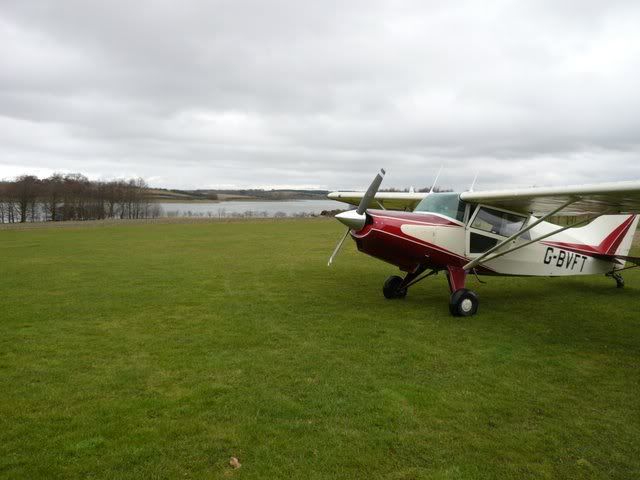 Above: It is always a delight to visit this idylic place at any time of year. A call to Rob found him now ready to depart in his improving clag and we arranged to meet at Tibenham.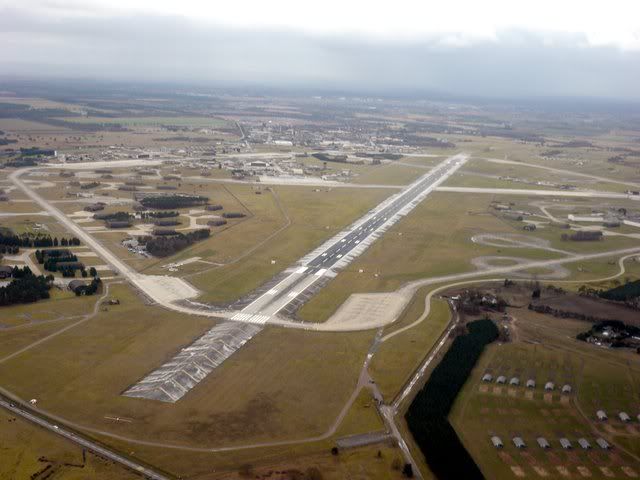 Above: My routing took me directly through the big MATZ area around Mildenhall and Lakenheath, but it was pretty quiet and Lakenheath let me route directly overhead.
Above: Danger Area D208 was cold and as I passed over the wooded training areas it brought back memories of running around in the military, counting paces on bearings during night patrols. Suppose they all use GPS nowadays though.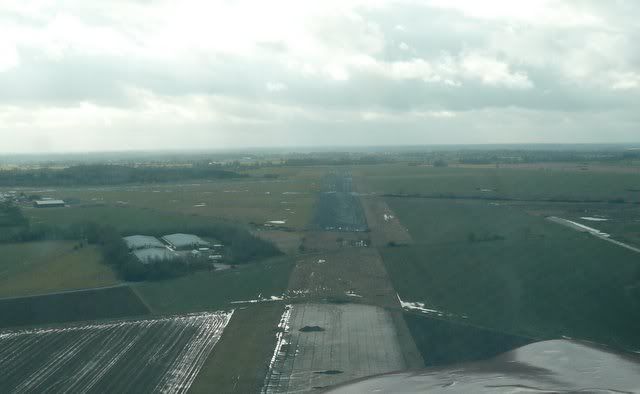 Above: Approaching Tibenham, I just had to fit in behind the glider in front and then land on the very ample wartime runway still in use.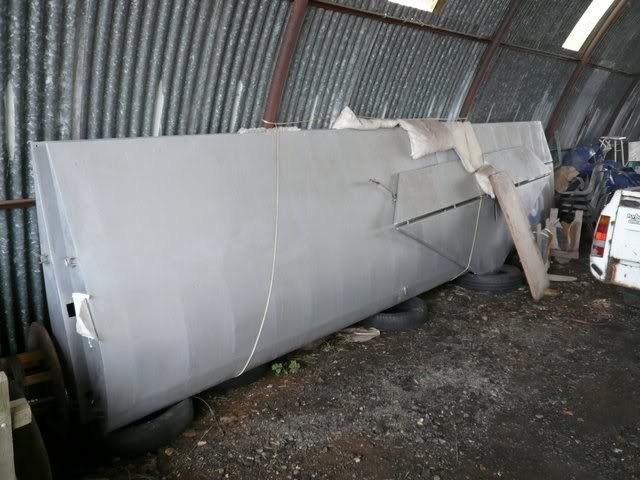 Above: Whilst I awaited for Rob to arrive in his Taylorcraft, I had a search around the old blister hangars and found the old Grasshopper RAF primary glider, which I believe I last skidded around on as an RAF cadet at the old Ratcliffe airfield around 1976. Not sure if I'd fly it now in its current state, but it was nice to track it down and just shows the power of "a bit of Goggling".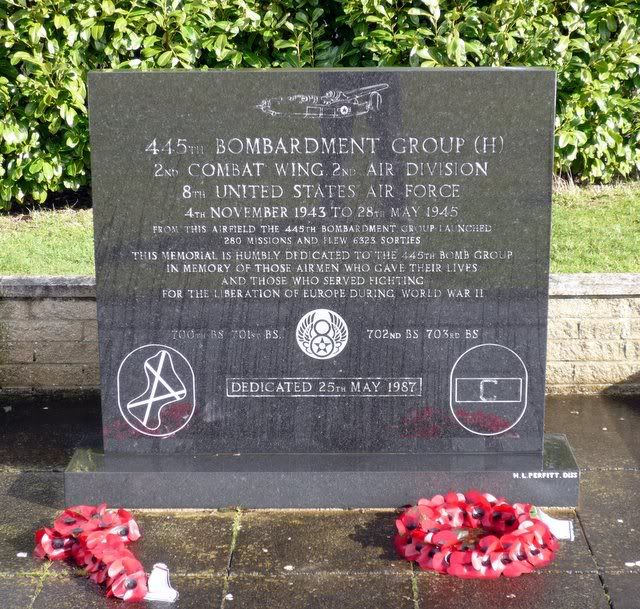 Above: After meeting the other forumites and demolishing a burger in the clubhouse, we paid our respects to the memorial for the wartime personnel. Apparently this was the airfield where the actor and pilot Jimmy Stewart served. Incredible life that man experienced.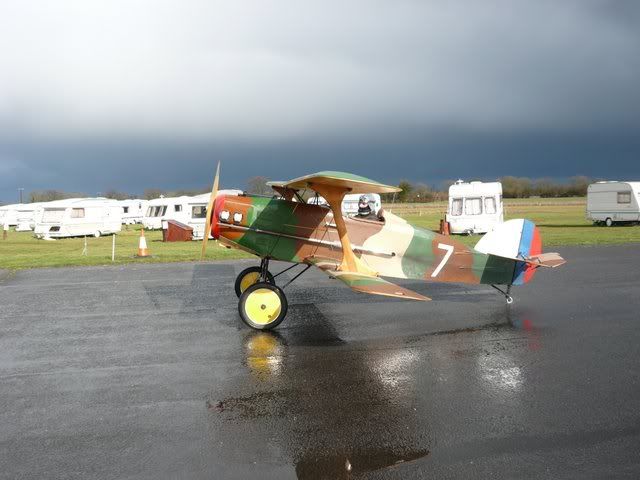 Above: As we walked back to our aircraft this kit replica taxied by looking very smart, although the pilot looked somewhat cold.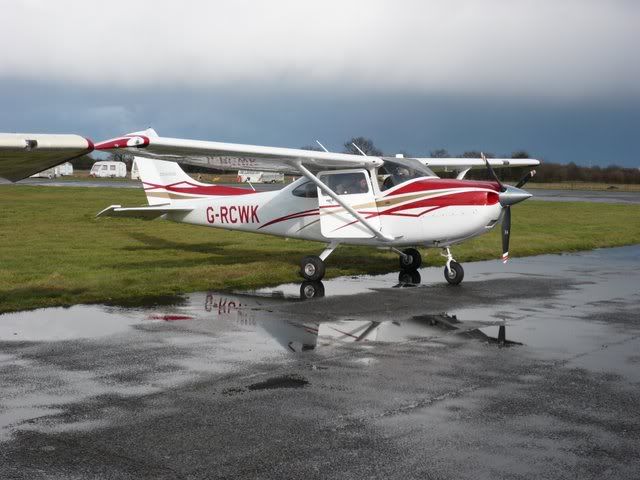 Above: Whereas Waveflyer's modern Skylane did not just look warm...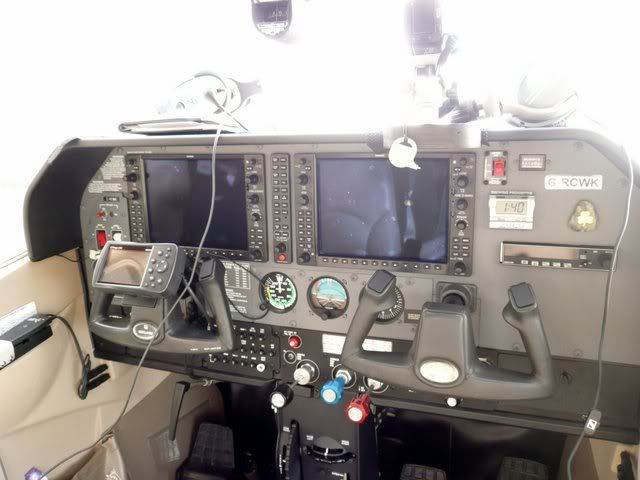 Above: It also resembled a TV production studio with all that glass and gizmos.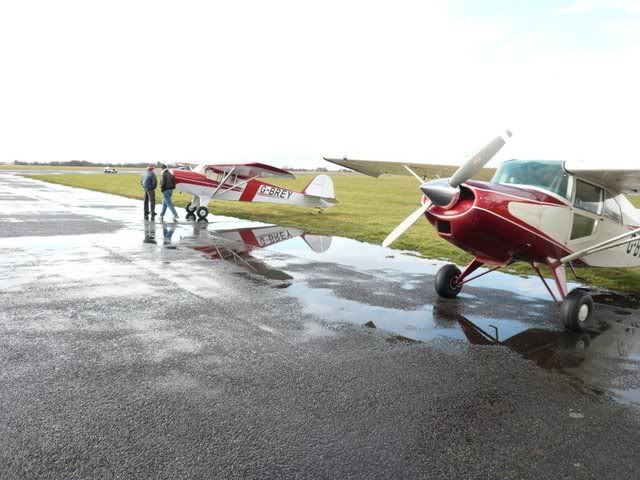 Above: Meanwhile the taildragger duo clambered back into their drafty steeds for the short hop over to Seething.
Above: Departing Tibenham the wet runways glistened and showed just how much tarmac still remained.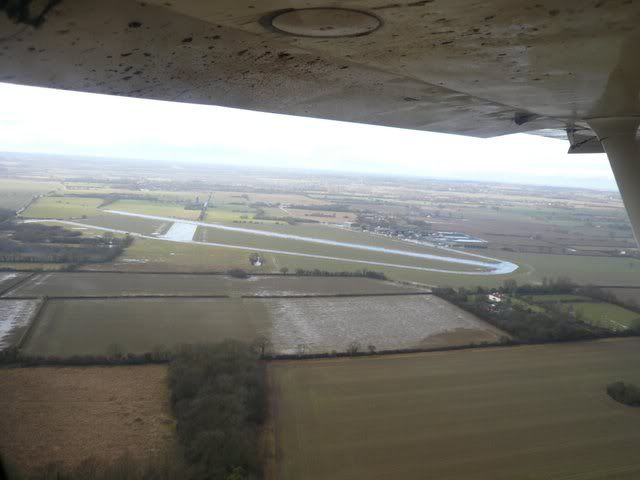 Above: Whereas arriving at Seething, it was the more usual case of what hadn't been dug up or returned to farming.
Above: I parked up the Maule next to an unusual sight in the UK, a Dornier DO27, the only one on the UK reg. I'd like to have a go in that!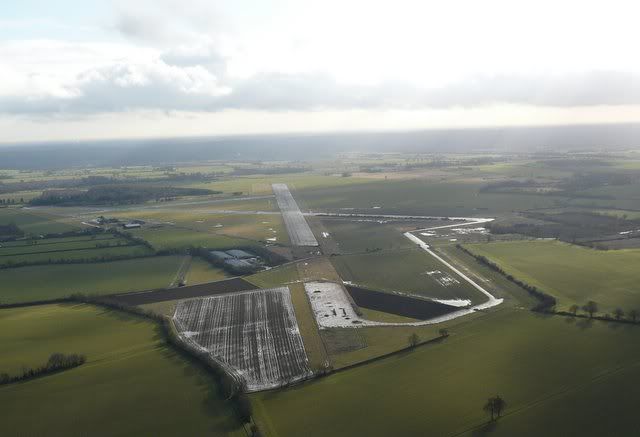 Above: It was then time to squeeze in next to Rob in the Taylorcraft and head back towards Dav past Tibenham again.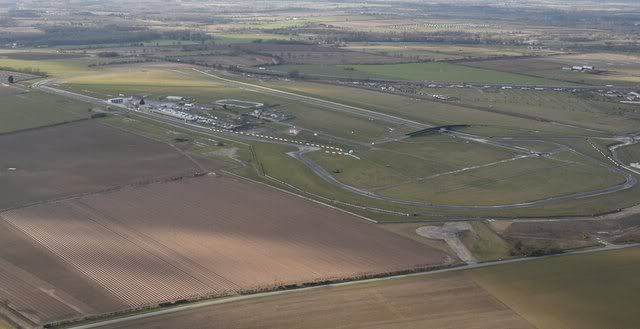 Above: We could see the bikes racing around the circuit at Snetterton too.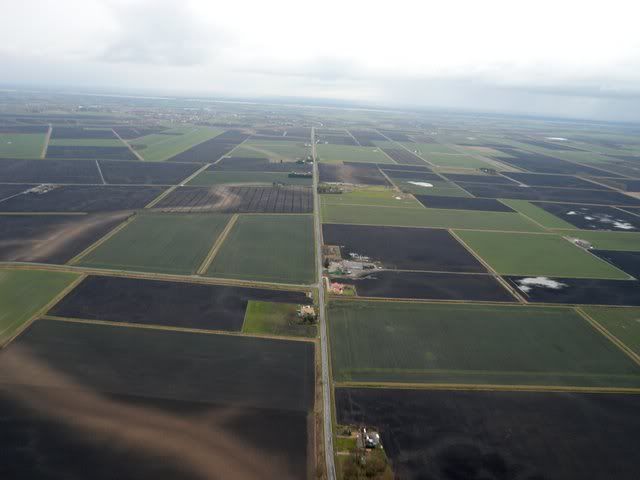 Above: There was then the miles of typical East Anglian countryside after we crossed the Great Ouse by Ely.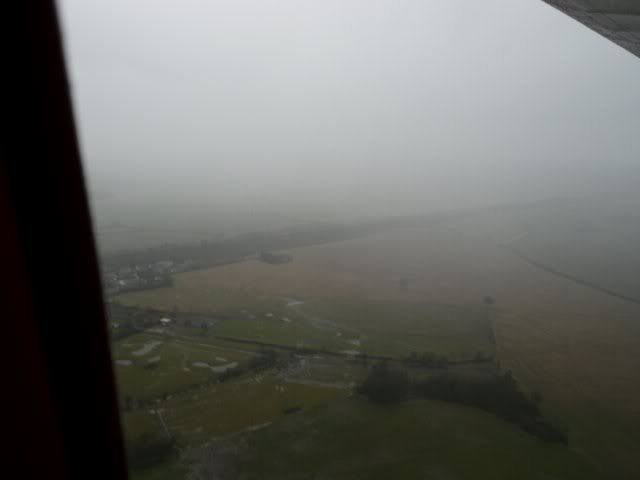 Above: But we weren't home yet and as Rob threaded his way between some particularly heavy showers we had a very bright flash of lightning close by, which surprised us for this time of year.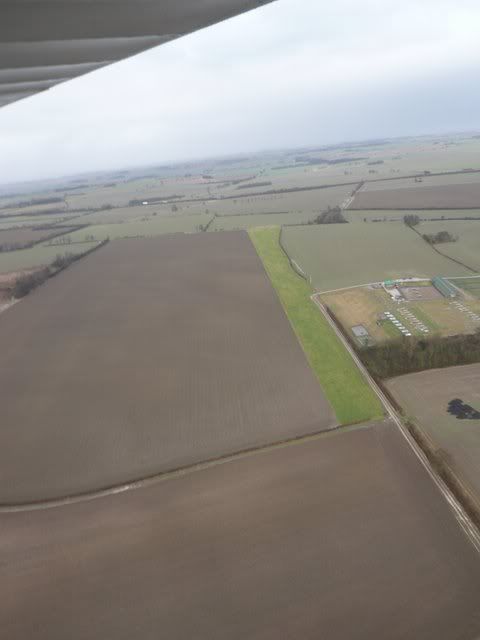 Above: But we were soon through to the other side and passing by the familiar and welcoming landmark of Keyston airstrip with the lure of the Pheasant up the foot path.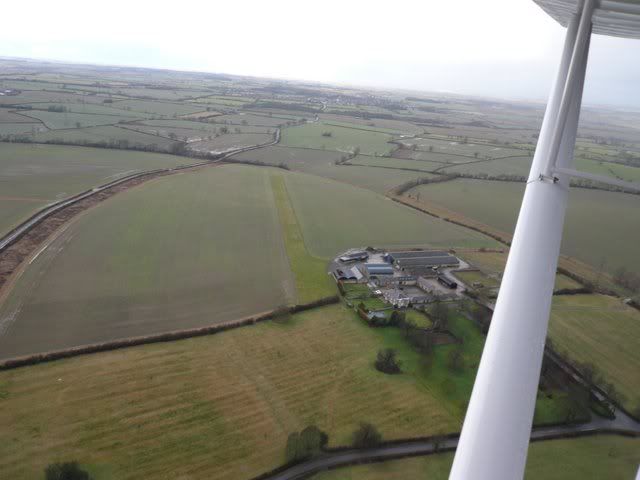 Above: However we then spotted something new, a strip just North of Sywell. Could be a candidate for a visit if we can find out the owner info. Any ideas? From multimap it shows up as Pytchley Grange.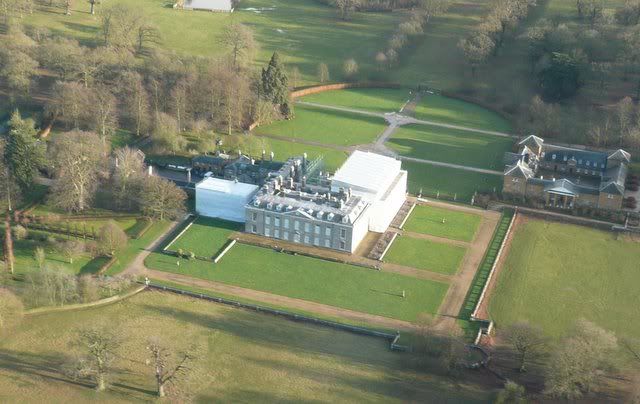 Above: Talking of repairs, it seemed like most of Althorp House was wrapped up in polythene as we flew by.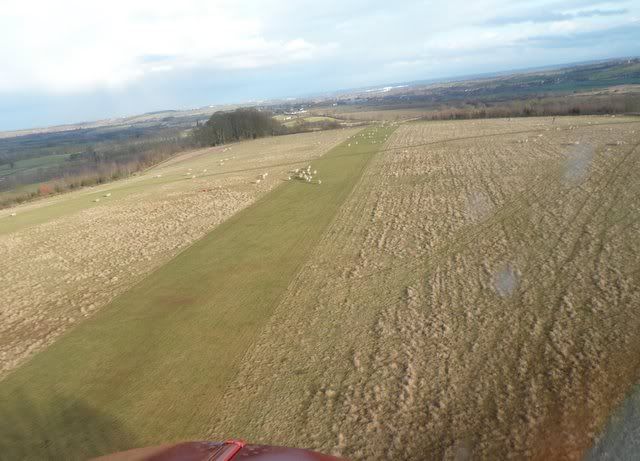 Above: It was then time for Rob to practice his sheep herding skills. Most people use a border collie, but the Taylorcraft seemed pretty efficient.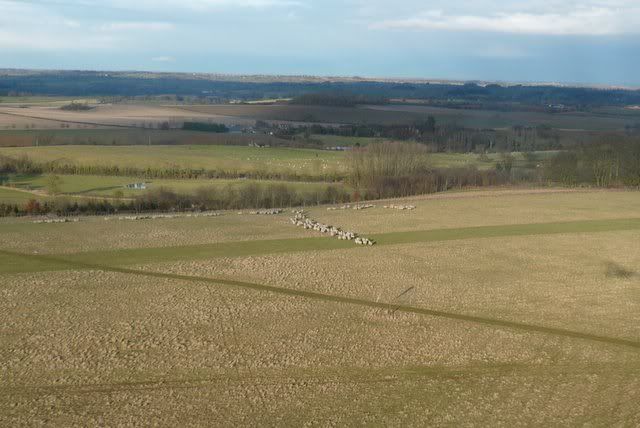 Above: After a couple of passes he finally got the remnants to cross the strip in an orderly line to join the main group. The trick is all about getting them together on one side before you land.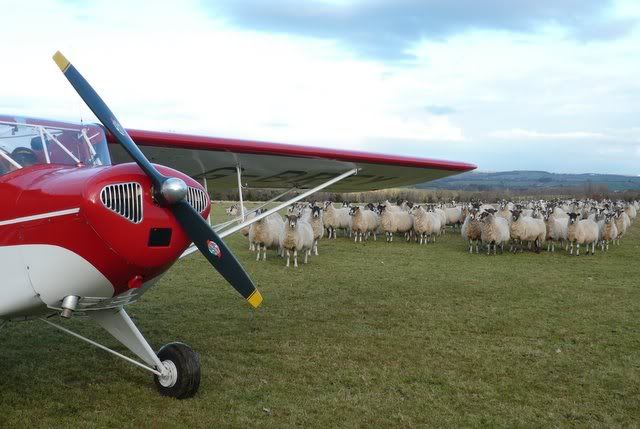 Above: However, once on the ground they were straight over to us to see if we had brought any feed for them.
Above: So Rob scooted off before they spread out again and headed back to Leicester in the evening light.
Thanks to him for the lift back and hope you enjoyed the pics.
Cheers
AF