Last weekend saw a Flyer Forum fly-in to Glenforsa. Only two aircraft and 5 forumites managed to turn up, but we were rewarded with some of the best Scottish weather you could wish for.
Flying up on Friday afternoon, the first glimpse of the Highlands gave us an idea of what was in store: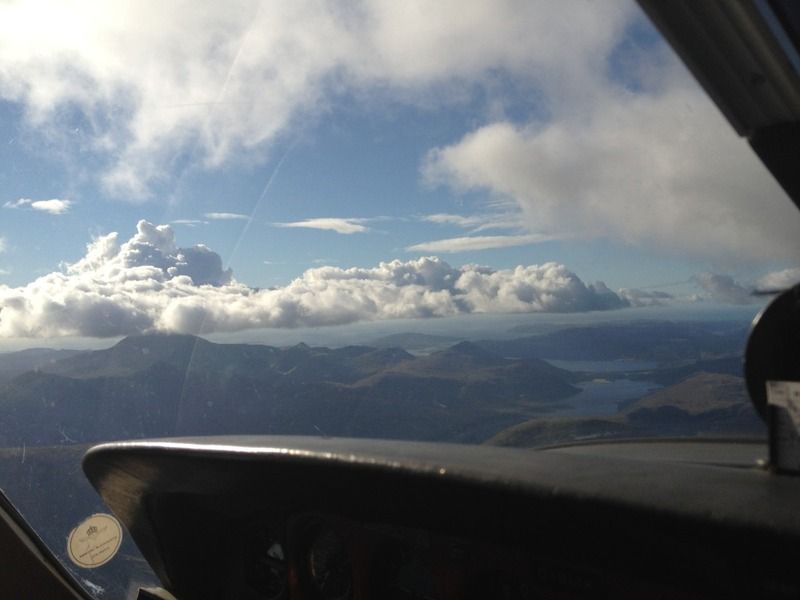 The arrival at Glenforsa was as spectacular as I have seen it: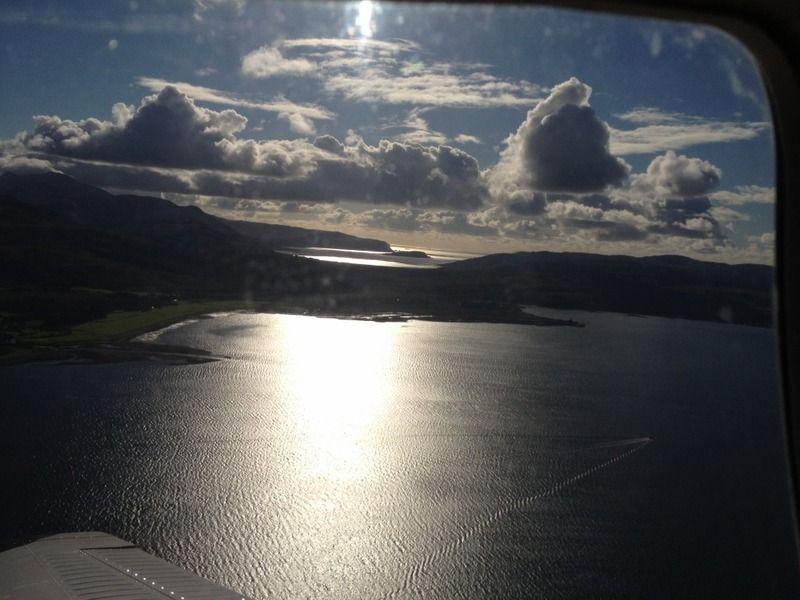 Our pilot decided to show off with a handbrake turn into the parking spot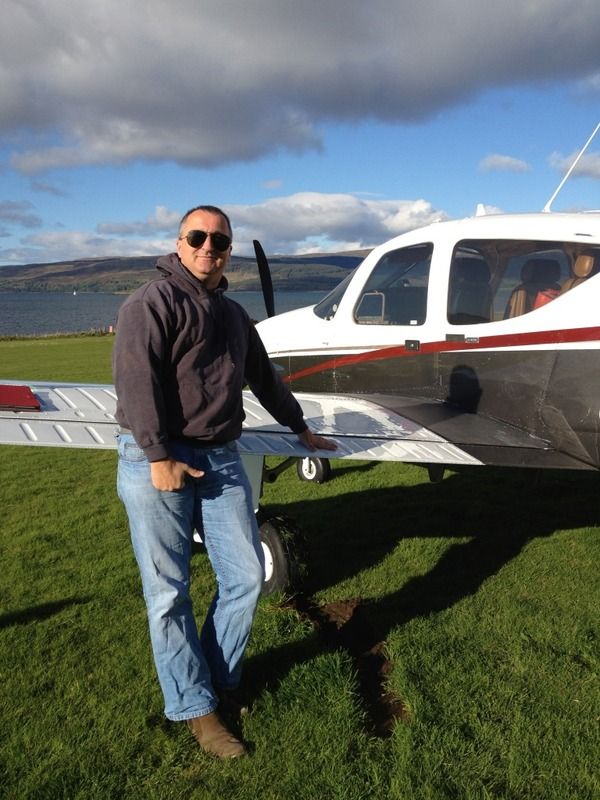 The forumites who attended were me, Iceman, EdwardG, The Westmoreland Flyer, and mikehyatt. We celebrated our arrival in the conventional manner - a splendid dinner followed by a convivial evening sampling the delights of the hotel bar's top shelf

On Saturday, which happened to be Iceman's 21st birthday
, we popped over to Oban for fuel (and tea and jammie dodgers), then over to Broadford (Skye) to RV with TWF and Mike. En route, we got a great view of Ben Nevis, almost entirely unshrouded by cloud: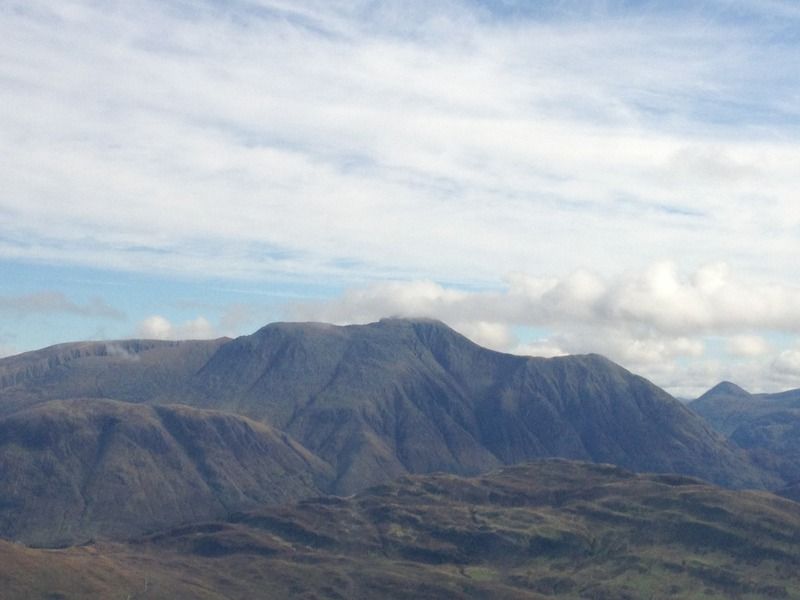 Turning left, we then followed the railway line from Fort William to Mallaig, which I understand is the one featured in the Hogwarts Express: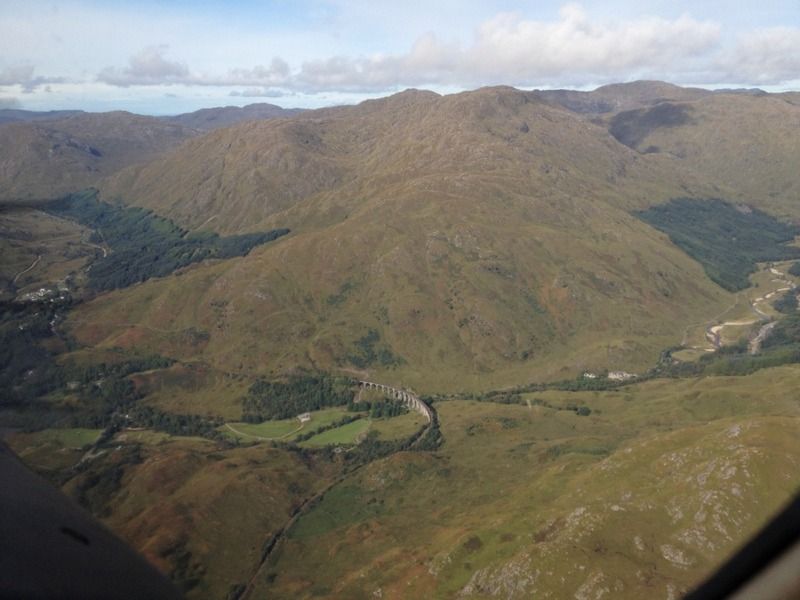 Arrival at Broadford: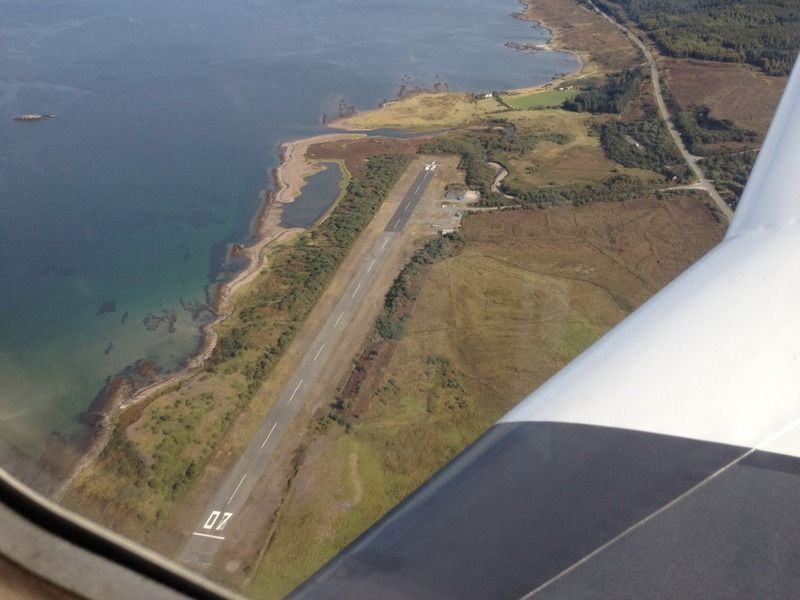 We stopped for a short while at Broadford, which is in excellent condition but a little way from the nearest civilisation:
Departing Broadford, we then split up - TWF nipped across to Plockton, and we went off to Dornoch, which took us past Plockton just after TWF had landed: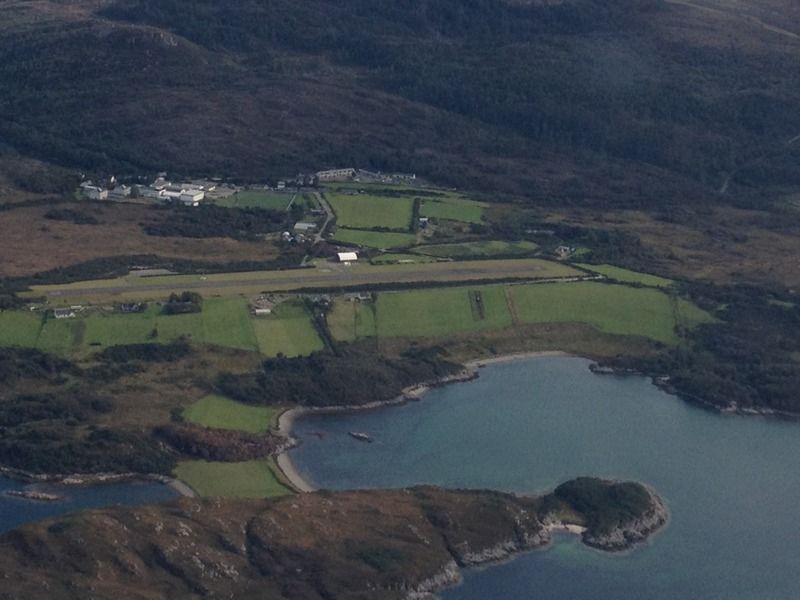 Again there was some spectactular scenery on the way:
Dornoch itself is a 770m grass strip in billiard-table condition, only a short walk from the town itself:
We walked into Dornoch for some birthday cake for Iceman. There are several restaurants and other facilities in the town. I didn't see a hotel, but I'm sure there would be one. I'm definitely bearing Dornoch in mind as an overnight stop on a future trip.
On departure from Dornoch, we overflew Inverness airport, then dropped down into the Great Glen for a low-level section: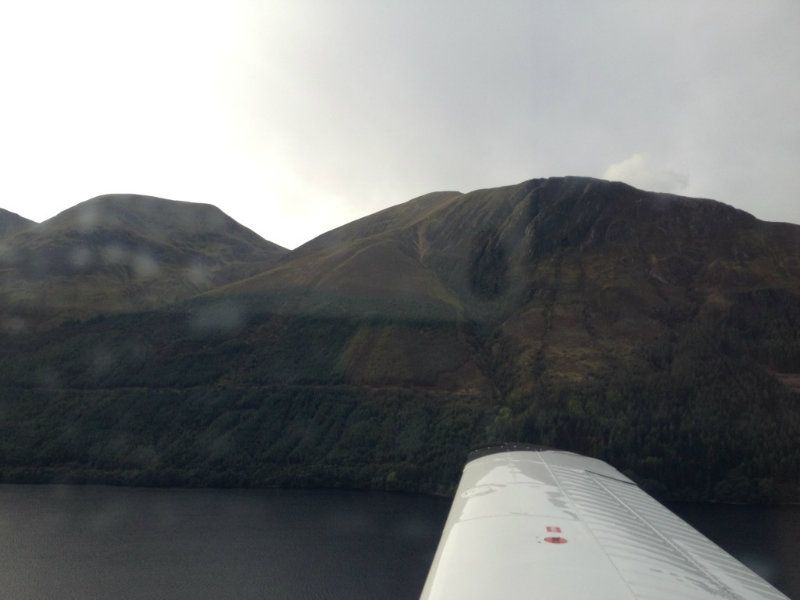 The view along the Glen is breathtaking:
We passed Glendoe strip, on the side of the valley, which looks like an interesting challenge for those with a suitable aircraft and W&B schedule:
Shortly afterwards, we spotted a Chinook playing at low level. And I mean low - we were at around 600ft AGL when I took this photo. See if you can spot the Wokka in the Weeds: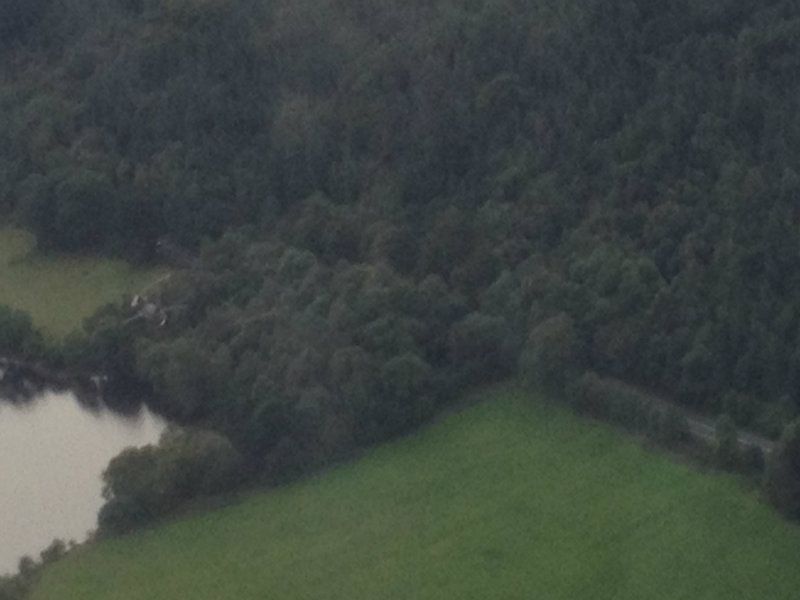 By this time, the joy of valley flying was upon us, so we took a little detour through some likely-looking valleys on the way back to Glenforsa. Commencing bombing run: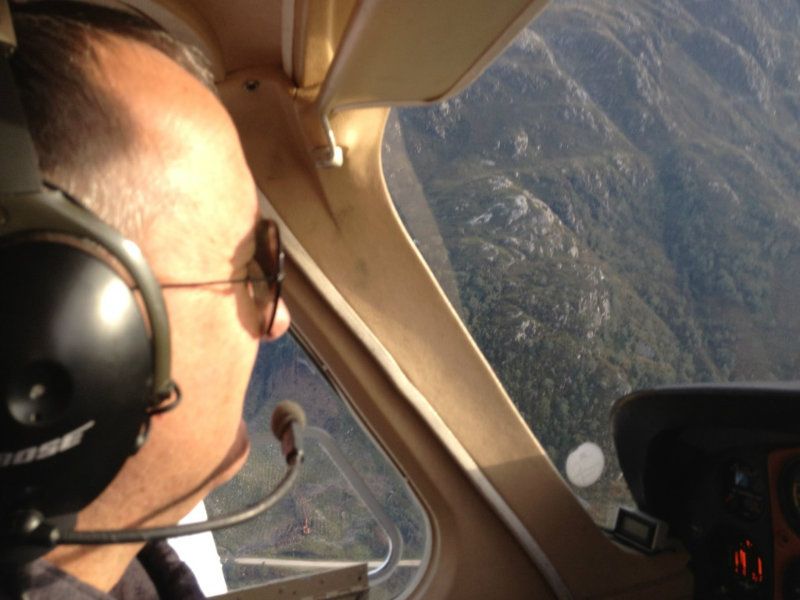 We were a lot further away from the rocks than it appears from this photo, honest!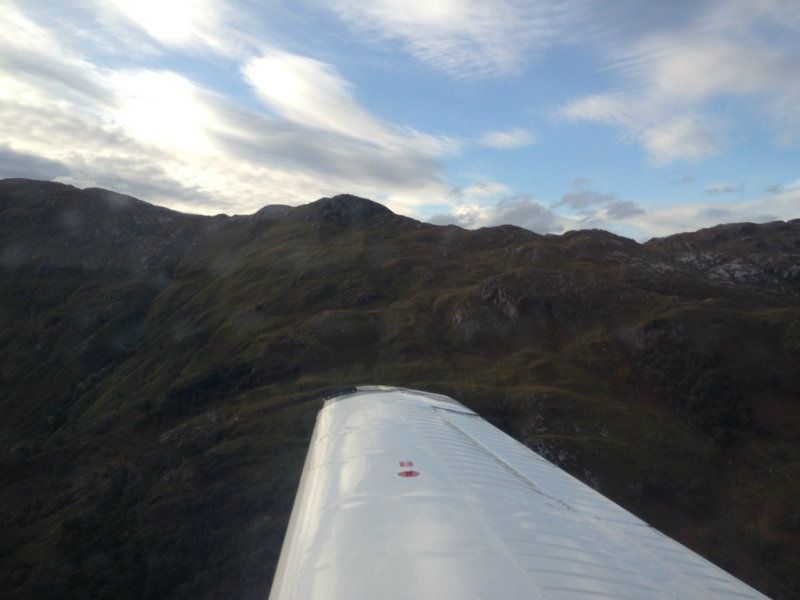 A review of our track log shows that we were definitely taking the scenic route: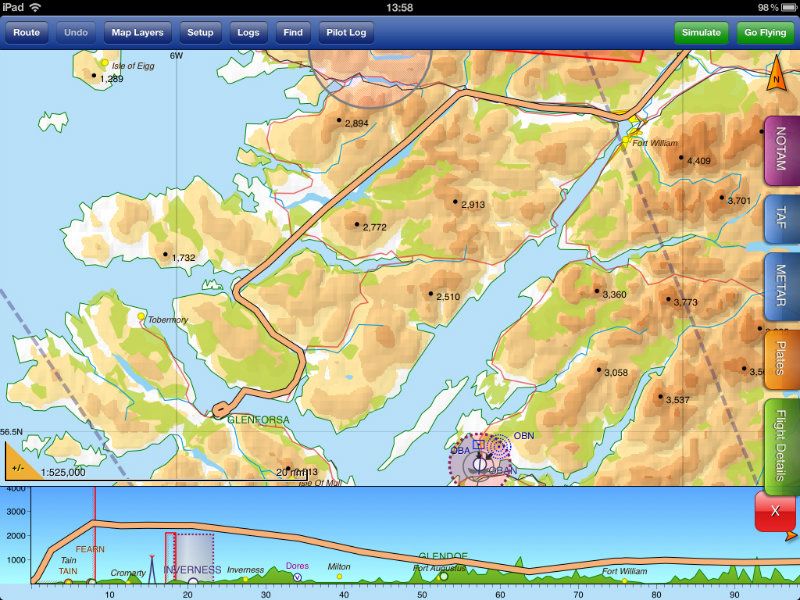 The evening meal, with bubbly courtesy of the birthday boy, was again most pleasant, and more whiskies were sampled.
On Sunday we flew over to Oban for fuel, where we heard about the accident that happened just after we left Glenforsa, which is documented on another thread. The landing at Oban was definitely rather sporting, with plenty of sink and turbulence on short final. With rather an interesting weather forecast further south, which promised to deteriorate, we set off for Gloucester in fairly good conditions, which lasted until around Liverpool. After that, it was distinctly challenging; nevertheless Iceman did a great job of the last 45 minutes including his first-ever RNAV approach, and a greaser of a landing
Another great Glenforsa fly-in! It's a bit of a shame that it was so sparsely attended, but I hope these photos will encourage others to make the effort next year - it really is well worth it.