The next morning dawned fine with light winds, ideal for my trip to Queenstown in the heart of the Southern Alps. This involves tracking the coastal plain southwards and then turning into the mountains, landing at the little airstrip at Pukaki to refuel. From Pukaki, I'll head direct to Queenstown, negotiating the narrow gorges on the visual approach into this extraordinary airport which had seemed so remote from the UK just a few weeks before.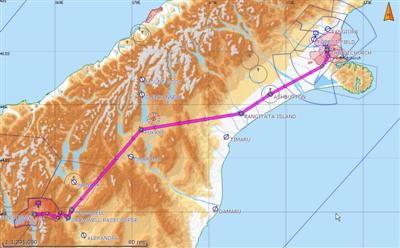 I took the rental car back, much to the displeasure of the car rental operation who did not like early returns. After some discussion, they issued me with a credit note but would not refund the extra day I had paid for, so beware!
(Car rental in NZ is a funny old business. You can't just rent a car in N Island, drive it across to S Island, do some touring, and come back again. When you get to the Wellington ferry, you have to check the car in, go across as a foot passenger with all your bags, and get another car on the other side. Bizarre!)
Here's the little Cessna parked outside the excellent Canterbury Aero Club. (There was some discussion on here at the time about "the best airfield for Canterbury" and it was difficult to resist the temptation of posting "Here! - just head straight down!")
No trouble identifying the correct set of white marker boards this time and away we go from the grass. To my right as I depart on a Northerly heading are the mountains at Lyttleton, and then swinging around on a right downwind departure the Southern Alps come into view. Between the mountains and the sea is a broad plain, crossed at intervals by the characteristic braided streams.
I head South toward my original destination of Ashburton, out of range due to howling winds a couple of days ago but now lying placidly in this glorious late summer's morning.
VFR Flight plan


As with most legs of my flight, I've filed a VFR flight plan with Airways New Zealand, using the iPad and my club's account, which they have generously made available to me. Flight plans cost $4.50 + tax, about £3.00, and are acknowledged with a squawk code that you wear for the entire flight. They are made available to flight information services along your route as well as departure and destination airfields.



SARTIME


A flight plan is required for departing Christchurch and unlike the ridiculous UK system, I'm glad to have one. The crucial thing is SARTIME: the latest time before the alarm is raised on your non-arrival. This does mean that you have to be absolutely resolute about closing your plan - especially if routing to unattended fields. Fortunately, NZ FIS are happy to close your plan in the air, so the chance of forgetting due to distraction after landing is much reduced. (Despite this, around 10% of NZ VFR FPLs go overdue unintentionally - but not any of mine, on this trip at least!)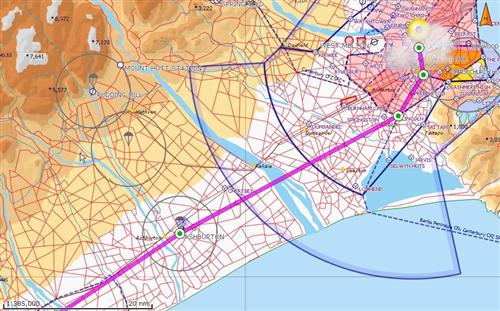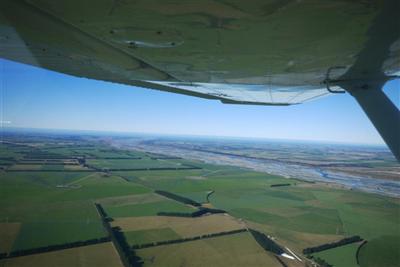 I'm experiencing one of the best flying days of my life, and I savour every moment of it! What a great, what an extraordinary privilege this flying hobby is! And there is no-where better on Earth to enjoy it than in this incredible country of New Zealand.
Now, the mountains beckon. I turn away from the coast and approach the first of many ridges that mark the edge of the Southern Alps. On my left is the South Pacific, and my right at 12,346' is Mt. Cook, the highest mountain in Australasia.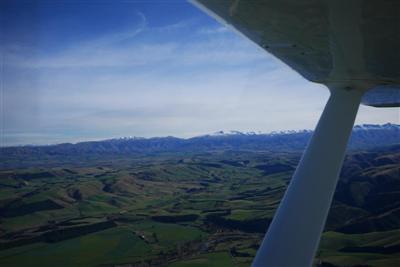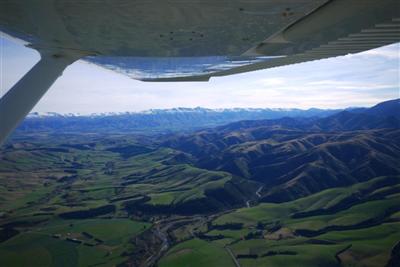 What happens next is slightly unexpected. Through a mountain pass dead ahead I glimpse an entirely different type of terrain. The fertile plain and the lush, forested mountain slopes give way to .. a desert! This dry, sandy place could be in Nevada.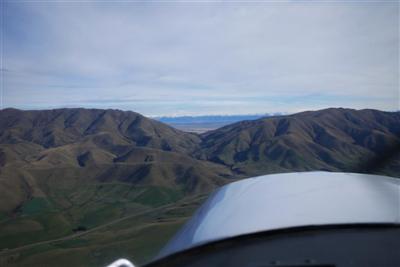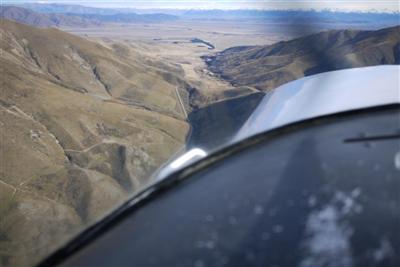 At the tip of the glacial lake running down from Mt Cook is my first stop of the day - the tiny desert airstrip of Pukaki. It's quite amazing that this place could be in fertile New Zealand, and not somewhere in the Western US.
As I approach Pukaki, I see another plane - a high wing type, maybe a microlight - pass far below me. No radio calls, and no reply to mine. Why would he? On my entire journey, this is the only other aircraft that I will see from the air.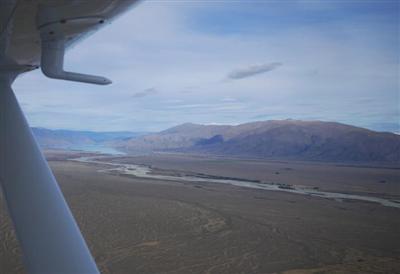 On the ground at Pukaki, I taxi to the automated air BP fuel pump and while away a few minutes in the now familiar game of 'hunt the step ladder'. The kindly folk in the tourist flight hut (the only evidence of life at Pukaki) allow me to borrow their enormous boarding ladder which dwarfs the little Cessna. Soon I have full tanks for my flight to Queenstown and any possible diversion if the weather should close in amongst these high mountains. I'm finding these automated pumps (and my club's generous decision to lend me one of their cards) an absolute boon. Without an air BP card, cross country flying in NZ would be quite difficult.
Wow! It's hot here, and it's hard to believe that Las Vegas is not just over that ridge. Instead, it's beautiful Queenstown that beckons...