As the UK advertisement goes......If Carlsberg made airfields......well IMHO Hoganas would be a shoe-in for the part!
Pronounced 'who-gan-ass' (I got a lot of blank looks from Swedish types when I said we were going to 'hoe-ginn-ass'), the airfield is located in the south-west of Sweden at just about the narrowest point of Oresund, the channel that separates Denmark (Cpoenhagen Island) from Sweden. Hoganas is 10nm north west of Helsingborg and is at the base of a distinctive peninsula with a ridge of hills at the tip - you can't miss it from the air, as pretty much everything else along the coast is flat.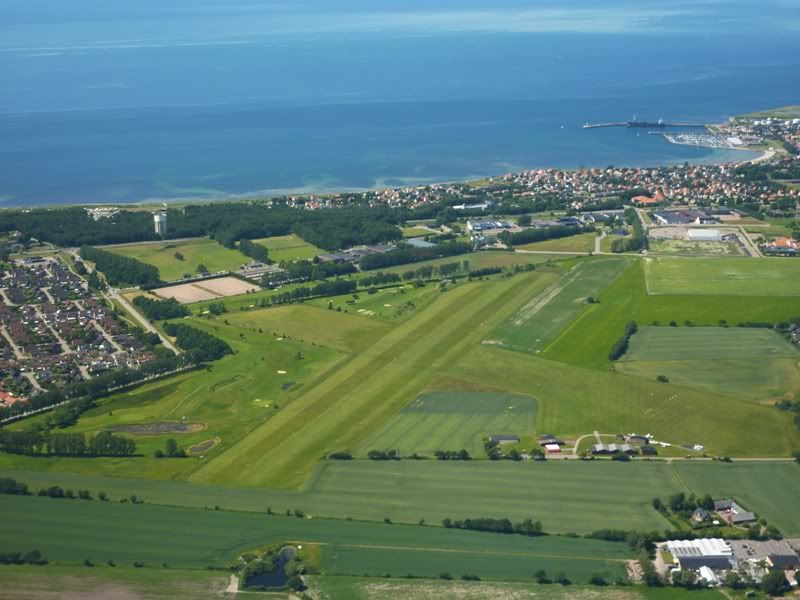 Hoganas airfield
Being a grass airfield, it is not particularly easy to spot, but we got it in the end! You can see what turns out to be an automatic runway to use signal, but don't use it, it was wandering around all over the place when we saw it on the ground later. There is an orange and white hooped windsock in the 'elbow' or runway 06 and 32 just in the field (i.e. off of the tended grass area), but we found this hard to see from the air.
We came in on runway 14, which involves a left base out to sea over Hoganas beach.
Pretty much everyone is welcome here. While we were there, three self-launching high performance gliders landed from Germany on their way to northern Sweden.
The radio was unmanned when we arrived and I suspect is only manned when there are specific events going on (of which there are many), so it is very much a 'sort yourself out' and give traffic calls kinda place, and very charming and refreshing for that - aircraft can fly and land without the radio after all!
There are two runways, both grass, aligned 14/32 at 800m and 06/24 at 510m. All of the runways are clearly marked by large bollards and there is cut grass room either side for other aircraft to taxi, so there is no need to backtrack and keep the runway occupied. The runways were very smooth, short grass and well tended. There are noise abatement procedures, but these are pretty easy, just read up on their website.
http://www.nsf.se/
They also apparently have 'pilot-controlled' runway lighting. Something about hold the pressel switch for 30 seconds at night and the runway lights come on for 30 minutes (do check with them first before you want to use it in anger).
They have Jet A1, AVGAS and MOGAS 91 or 95 UL in tanks on the airfield. They will come out and fuel for you. There are no landing fees, although they are happy to accept donations. Pay by credit / debit card for preference, but they will accpet cash if necessary.
They have a really great and very well equipped clubhouse. It used to be an old workers accomodation block for a nearby company. They have a great briefing room with internet PC and free / no password WiFi. Better still, they have five (or six?) bedrooms / bunkrooms available for a modest SEK200 pppn (about £20). Nothing fancy, but they do have en-suite sinks and toilets and a communal shower room. They will rent you sheets or you can bring your own stuff. Honesty system in operation and they have a soda / beer fridge and an ice-cream chest with loads of goodies.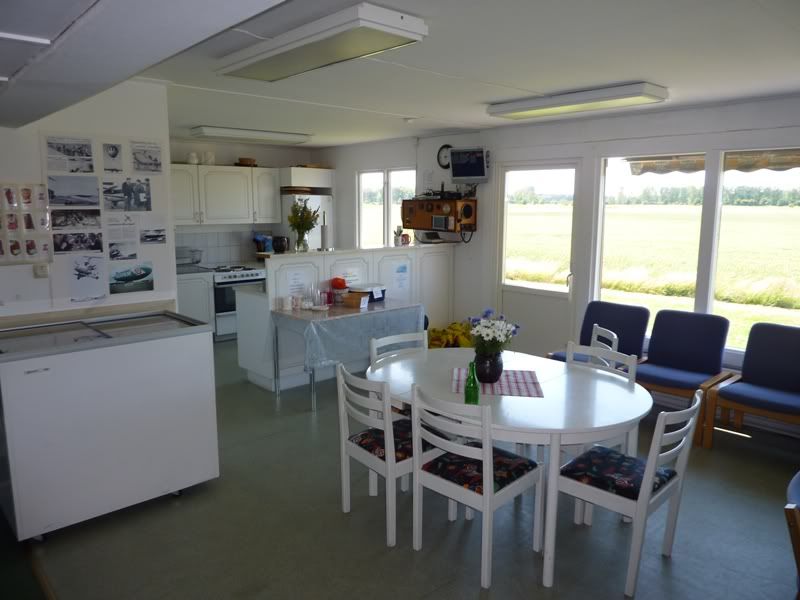 The brilliant Hoganas clubhouse
But it doesn't stop there! They are very happy if you want to camp out by your plane and will happily lend you bicycles for getting around for free. The local town is possibly just too far to walk, at about 2 miles.
They have regular events there. We just missed a 'flying fish' fly-in, where people fly in from Denmark and Sweden to eat, err... BBQ'd fish! But they also have an annual Vans RV rally in August that attracts RV aircraft from all over Europe.
The only 'not so good news' is something the airfield can do little about and that is that the town is pretty quiet with not a huge amount happening there and few bars and restaurants. I am told you can get a bus into Helsingborg and that may be a good idea!
If you want to cycle, try the coastal cyclepath (ex-railway) from Hoganas beach to Molle, a small but lovely ex-fishing village at the tip of the peninsula, some 11km away. Just make sure you are happy cycling, I haven't cycled for 25 years and I felt like the losing contestant at an arse-kicking contest at the end of it!