Flensburg is located a stones throw from the Danish border about 40 miles NW of Kiel.
It has two grass runways and one tarmac runway of 1220m aligned 29/11, so options for taildraggers wanting in to wind landings. They do parachuting there, so bimbling through the overhead would not be a good idea.
A very quiet airport, located close to the town centre of Flensburg, but not walkable, you need a taxi. They were kind enough to find someone to give us a lift to our hotel. There is a bar-cum-cafe on the airfield which looks well used, although not when we arrived late afternoon.
Friendly and competent guy on airfield reception and very helpful. Have free WiFi for flight planning, but I couldn't recall seeing an internet PC.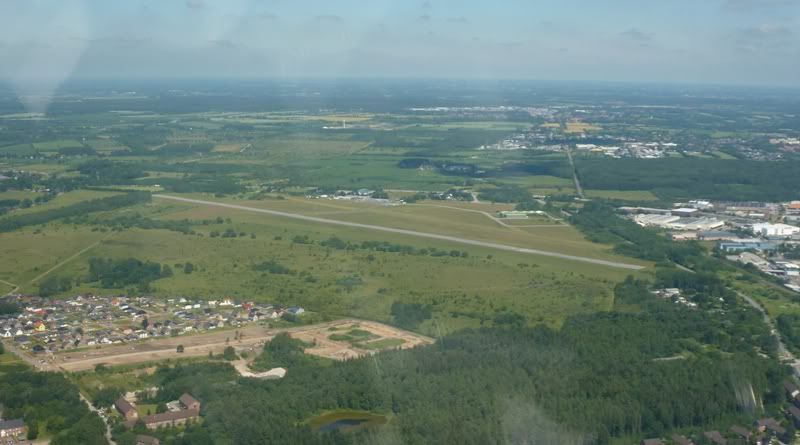 Flensburg airfield viewed from the south looking north
For hotels, there are many, but I far prefer the Accor Hotel; chain as they allow same day cancellations, so are a real god-send for VFR touring pilots! There are two of the cheap Etap hotels in Flensburg, one on an out-of-town shopping centre (not recommended as it is even further from town, but only two miles from the airport, and the other Etap is in town, but we found it fully booked, although it was the weekend. Best to go for the in-town Etap if you can get a booking.
There is a great micro-brewery / restaurant in town on the street that runs along the harbour front (Hansens Brauerei), you can't miss it, and DO eat and drink there, it was great!! It was a really nice, but small and quiet town.
Refuelling at the airfield is easy enough, the AVGAS pumps have instructions inside with German one side and English the other. Just DO wait and allow the tower 30-60 seconds to switch them on remotely between steps. But be careful, they will only accept payment by BP Carnet or Cash only, no credit or debit card payments.
A fully functional and quiet airfield and a town well worth visiting, especially that micro-brewery. A very practical stop for GA touring, just be careful of how you can pay for the AVGAS.